Consume REST APIs in low-code
Query parameters, body, headers, verbs - APIs can be quite technical. With Linx, you can easily connect and orchestrate data across any combination of cloud or on-premise APIs.  Build & host a REST Web Service 
---
Model and consume data in minutes
Leverage the power of APIs to integrate systems and communicate with customers and vendors.

Easy to use
Visually implement business processes, logic and data models using data flowing to and from APIs. Design and implement your bespoke functionality to deliver highly-customised applications for your business.
Develop at speed
Every aspect of Linx is designed to help you deliver applications faster and make changes easily - from our drag-and-drop UI to powerful tools to rapidly deploy and manage your apps.
Rapid integration
Easily integrate with any database, API ecosystem or file using our pre-built plugins to popular systems such as Google, Xero and AWS, or build your own.

Any format, any system
Instantly incorporate incoming message data from other apps and services - like JSON, XML, CSV - for immediate use in your application.
Pain-free testing
Easily review your logic and make the changes you need. Debug in real-time directly from your IDE, including step-by-step execution for each request.
Hassle-free hosting
Deploy directly from your IDE in 1-click - public cloud or on-premise. Get immediate access to your Linx Server for deploying, running, managing and maintaining projects.
A simpler experience for consuming REST web services
Connect and orchestrate data across any combination of APIs or on-premise applications in low-code
Low-code Development
Plug & Play Integration
Deep Database Support
Complex Business Logic
SOAP or REST
Deploy Anywhere
Rock Solid Security
Logging & Reporting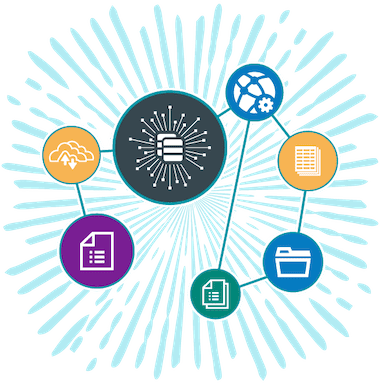 Access any data source including Azure, MS SQL, MySQL, MongoDB, Swagger, Postgres, Oracle etc
Use powerful routing and transformation tools
Support API usage across multiple scenarios
Integrate third-party services or APIs into your app
Define flows and choose your own architectural style
Easily use pre-wrapped functionality for popular systems - such as AWS, Google, Xero and more
Build like a developer, only faster
Implement your logic and deploy your APIs faster than you could ever imagine
The Linx difference
Build, host and manage all your APIs and microservices using one platform