Build & host custom backend applications
Develop. Design. Deploy. Features for every step along the way.
With features to match the needs of the modern IT pro, Linx enables the rapid creation of business applications so you can take advantage of new business opportunities, quickly and on-demand. 
---
Get work done, fast.
Often compared with ETL, BPM, Workflow and ESB tools, Linx has every feature required to deliver what your business needs. Linx provides a comprehensive, integrated set of tools for the IT pro, from ideation, design and development through to deployment and operation.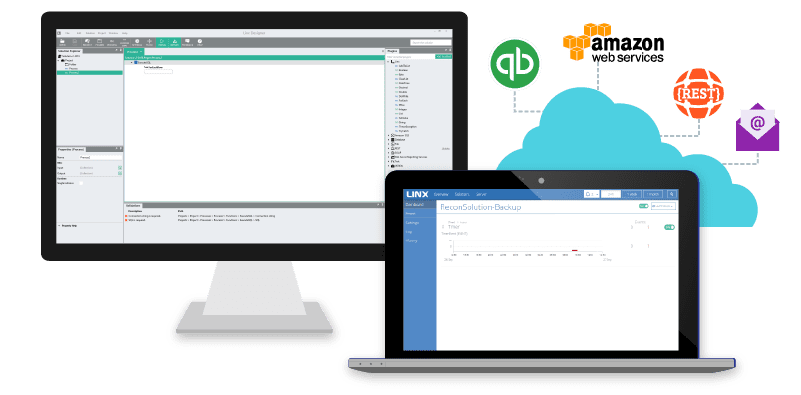 Low-code development - Visually design applications using prebuilt components to automate workflows for almost any backend process.  

Simple hosting  - Our cloud or in your datacenter, choose the environment that best supports your business. 

Model complex logic - Visually create or reuse processes to implement custom logic, business rules and integrations. 

Visual Debugging - View input/output of actions, errors and every other detail about your application on the go.  
Codeless connections - Visually and quickly integrate your LOB systems, APIs, databases, files and web services. 

Plugin library  - Speed up application delivery with common programming functions and services built into easy-to-use drag and drop packages.   

Designed for data - Easily construct data rules and operations for automating business logic, data and system integrations.  

Enterprise security - Powered by Microsoft Azure, your applications and web services will run securely and seamlessly.
See how we compare
Linx combines the best features from the most popular business technologies. 
BUSINESS PROCESS MANAGEMENT
ENTERPRISE APPLICATION INTEGRATION
Execution triggers
Services
Graphical automation designer
Debugger
Expression builder
Regex integration
Run selected steps
Application integration
Data extraction
Design-time error detection
Run-time error handling
Report generation & logs
EXTRACT, TRANSFORM, LOAD
Extract from sources
Validation of data
Transformation of data
Publish to target tables
Synchronization of data
Data cleaning
Archiving
Data integrity checks
Parallel processing
Data source & target support
Failure diagnostics
Loading of staging tables
Data integration
Data transformation
REST APIs
SOAP services
Service creation & enablement
Transactional engine
Synchronous/asynchronous execution
Remote deployment
Error management
Message routing
Email client integrations
Complex data management (XML, Java)
Documentation generation (PDF, txt, csv)
Decision logic & rules
Process monitoring
Simulation/debugging
Execution dashboard
REST API tools
SOAP (WSDL) tools
Drag-and-drop route creation
Command line & scripting tools
Functional, load & security
Web services testing
Business application generation
Process monitoring
Synchronous/asynchronous execution
Decision tables
Service creation and enablement
Messaging & message routing
Deployment manager
Remote deployment
Service simulation
Activity monitoring
System monitoring
Via LINX PROCESSES
Data profiling, standardisation & enrichment
Data monitoring & reporting
Deduplication
Transactional engine
Design & host backend applications & web services
Everything you need to rapidly deliver powerful backend processes & web services for business
Database Apps
Build applications that require storing, querying and manipulation of data stored in any relational or NoSQL databases.
Event-Triggered Apps
Develop applications which require triggering and processing of requests from several systems.
Automate Backend Processes
Develop rich process-automation applications including system tasks, complex rules and activity monitoring.
APIs & Microservices
Easily design and host endpoints for publishing/exposing or consuming data from multiple systems.