ARE YOU LOOKING FOR AN ALTERNATIVE TO VISUAL STUDIO?
Fast, powerful low code IDE
AN INTEGRATED, LOW CODE TOOL FOR FAST, POWERFUL BACKEND APPLICATION DEVELOPMENT
Use Linx to rapidly integrate systems and databases, automate processes, rapid application development or design and test web services and APIs.
"It's quick and easy to get a concept into operation and comprehensive in its ability to produce solutions."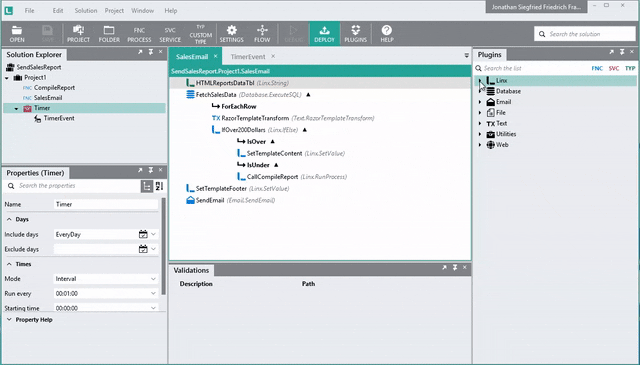 Focus on logic. Eliminate Complex Coding.
We think Visual Studio is great. If a project type or a platform is available for C#, it's available in Visual Studio. But have you ever thought there is a better way or an alternative to Visual Studio? Linx offers IT professionals the power of assembling complex automation tasks without writing a single line of code — try it to fill the gaps of limited internal development resources, lack of budget and time, to design and deploy custom applications and services, fast!
Deep Integration
Integrate any combination of applications, systems or databases via a library of easy to use plugins. Integrate a web service, database or application – public or proprietary, hosted on-premise, or in the cloud – effortlessly.
Event-driven Automation
Define, execute and manage multi-step business processes as a single processing unit of work. Syncing across multiple applications in real-time with powerful data rules and triggers.
Databases & SQL
Plugin architecture makes it simple to connect, transform and automate data in limitless ways. Linx excels in automating workflows for applications that require storing, querying and manipulation of data stored in ODBC, OLE DB and NoSQL databases.
Plugin Architecture
Focus on the logic by using an integrated library of common functions and services designed by our team of experts, making it easy for you to accelerate the development process.
API Backend
Create a consolidated backend for disparate solutions or integrate specific backend elements of different applications into one another. Easily store and re-use previous services as APIs, expose existing assets as services or build and configure your own API.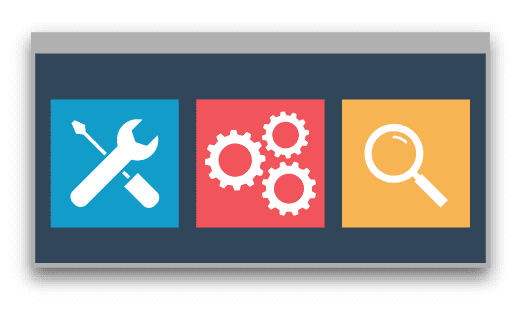 Debugger & Other Tools
Dedicated window to compile, run and execute processes for bugs. Choose to step over values used in the execution of your process or add breakpoints to review functions values in detail.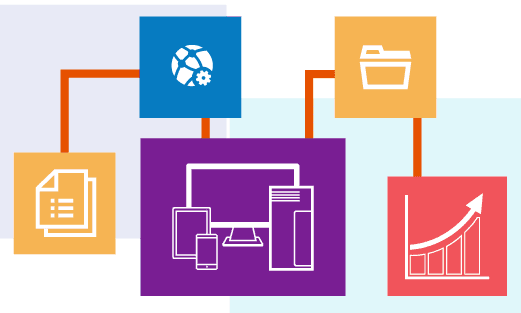 Build (a)Synchronous Flows
Choose short running, synchronous processes for automating business logic, managing data and dealing with integration or create long running, asynchronous business processes that manage workflows spanning people, software and systems.
Server
Browser-based management console that provides deep operational insight for administrators. Monitor performance, throughput, processing sequences, history, and event logs.
One-touch Deployment
Deploy your applications to suit your business model, whether it be public cloud, private cloud or on-premise infrastructure.
Modular Design and Reuse
Save time, support efficiency and cut the cost of development through reusable components. Keep up with the volume and frequency of new product introductions, features or prototypes.
MVP Prototyping
Low code provides faster time-to-market for both MVPs and full production solutions. Add, test and improve the product, while slowly adding functionality to reach the complete application on your roadmap.
"Linx allows us to react to both internal and external process requirements, creating and refining them very effectively and almost instantly. With practically no dependency on low level code, we're able to translate complex concepts and logic into rock-solid services with unparalleled ease and speed."
Database Apps
Build applications that require capturing, storing, querying and presenting data stored in relational or non-relational databases.
Request Handling Apps
Develop applications which require triggering, processing and tracking of requests from users or systems.
Process Apps
Support the complete lifecycle of business processes which includes workflow, system tasks, complex rules, tracking and monitoring.
Generic Apps
Generic apps assimilate database, request handling and process app capabilities to deliver exceptional business productivity.