Looking for a Visual Studio alternative?
We think Visual Studio is great. If a project type or a platform is available for C#, it's available in Visual Studio. But have you ever thought there is a better way or an alternative to Visual Studio?  In a world where tomorrow is too late, Linx provides the modern IT pro with the agility and flexibility to quickly modify their processes to help their business stay ahead of the game.
An integrated, low-code tool for fast, powerful application development
Eliminate Complex Coding.
Add Visual Editor Tools.
Fill in the gaps of limited internal development resources, lack of budget and time to deploy custom apps and get to work fast. 
Eliminate Data Silos.
Add Simplified Integration. 
Access on premise systems, APIs from external entities, web services and shared drive folders in seconds.
Eliminate Guessing.
Add Real Value.
Powerful drag and drop design and on-click deployment allows you to try out new ideas, improve development efficiency and drive value across your organization.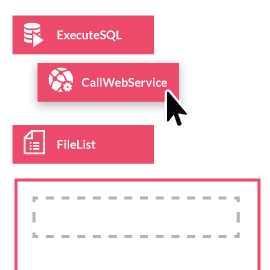 Drag and Drop with all the features of Visual Studio
Create powerful solutions in minutes without writing any code.
Build Fast: Replace common programming functions and build solutions up to 5x faster than before
APIs: Build and configure your own API or expose existing assets as services.

Deploy Anywhere

: Run your new application locally or on the cloud. Deploy to multiple environments directly from your IDE.
Use Any Data: Access data from nearly any source:

SQL, REST, SOAP, XML, Excel, MongoDB and more.

Live Debugging: Isolate issues and step through logic to rapidly isolate issues and resolve bugs.
Select from Pre-built Actions and Functions: Choose from over 100 pre-built, pre-coded and pre-tested functions to rapidly create solutions and automate processes with no need to code.