Timer
The Timer service allows for the execution of a Function at a specified time or interval.
Properties
Mode
The execution mode of the timer.
Options:
Events
TimerEvent
Activated when the timer interval has elapsed, or when a specific time has been reached.
Examples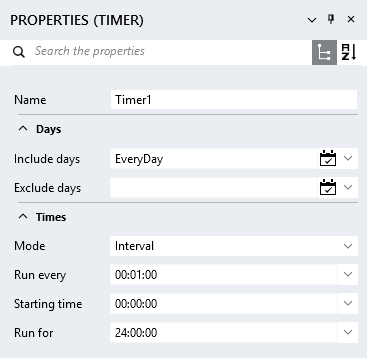 Execute every day (Mon-Sun), starting at 12 o'clock at night and run for 24 hours.
Interval execution times are:
00:00:00
01:00:00
02:00:00
...
22:00:00
23:00:00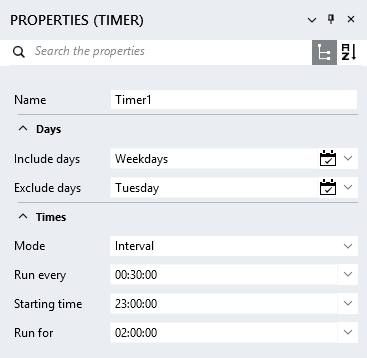 Execute every day of the week (Mon-Fri), excluding Tuesday, starting at 11 o'clock at night and run for 2 hours.
Interval execution times are:
Monday 23:00:00
Monday 23:30:00
Tuesday 00:00:00
Tuesday 00:30:00
Wednesday 23:00:00
Wednesday 23:30:00
etc.
Note that the exclusion day is used when determining the start time of the timer. In this example there will be timer events on the Tuesday morning, because they form part of the interval range that started on the Monday night at 11 o'clock.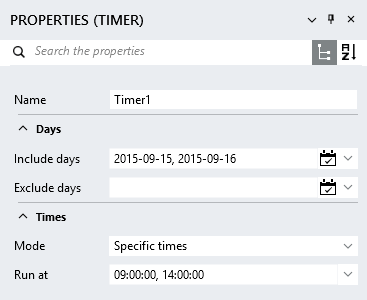 Execute on the 15th and 16th of September 2015 at 9 o'clock in the morning and 2 o'clock in the afternoon.