RESTHost
Assemble and publish a REST web service endpoint by implementing its web methods through events using RESTHost. The definition for the web service is imported through a Swagger API description file. The API description import creates one event for each path defined in the Swagger file.
Note:
RESTHost supports OpenAPI 3.0.

Solutions that were previously built to work with Swagger 2.0.x definitions will continue to work as expected, but in the case of new solutions, RESTHost will only support OpenAPI 3.0.

Thus, if a user copies the Swagger 2.0.x API service definition from a working solution into a new solution, the definition will not work. A Swagger 2.0.x definition must first be converted to an OpenAPI 3.0 definition before adding it a Linx solution. See Swagger for help on converting from Swagger 2.0 to OpenAPI 3.0.
Need help creating an API definition?
Use the Linx OpenAPI3 Definition Designer to create a valid Open API 3 definition. After creating your definition, add it to the RESTHost function's API definition property, as described below.
Properties
API definition
A valid Open API 3 definition for your web API, in JSON or YAML format. Before adding your API definition in the API Definition Editor, ensure that it is valid as per the Open API 3 specification. Validation can be done online at Swagger Hub. See below for guidelines on how to validate your API definition on Swagger Hub:
Base URI
The URI location where the web service will be published. For example:
http://localhost:8023/MyService
Auth config
Authentication configuration can be defined in the security schemas of the API description. Those settings are automatically pulled into the Auth config editor, from where it can be updated.
If no authentication settings were added in the API description or if additional authentication settings are required, it can be added in the editor.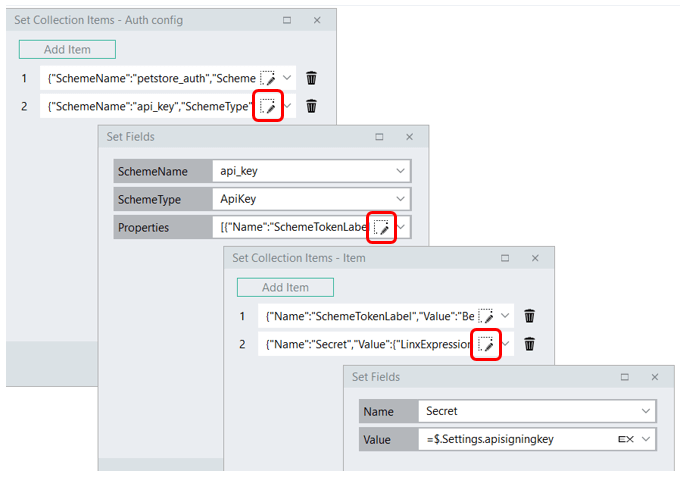 To add an item or field's associated detail, click the Editor icon.
Return server errors
Show details for internal server errors in HTTP responses.
Values: True / False
Max connections
The maximum number of concurrent connections to accept (per client).
Max request size
The maximum allowed size of any request body, in megabytes.
Default: 30
Before operation
Show the Before-Operation event handler. This handler will execute before the execution of any operation.
After operation
Show the After-Operation event handler. This handler will execute after the execution of any operation.
Authenticate
Show the Authenticate event handler. This handler will execute for every authentication scheme associated with an operation, before the execution of the operation.
Links