We are proud to announce that Linx has earned two more awards form CompareCamp, a popular B2B software review platform. This recognition is given out annually to products that have recently appeared on the market and are gaining International recognition.

At Linx we have been working hard to create a great low-code tool that users love. The awards are great symbol of a well-designed interface, powerful features and versatile functionality which were reviewed in the latest listing.
We are proud to be the 2020 recipients of the "Great User Experience" and "Rising Star" awards – of which we are delighted – and underlines our efforts to build a developer tool that meets the demands the of the market.


---
A while back in 2017, Linx won the prestigious 2017 Rising Star Award from FinancesOnline.
With an overall review score of 8 out of 10, and a user satisfaction score of 99%, Linx was also honored in FinancesOnline's new list of the Top 50 IT Development Tools.
And if one award was not enough, FinancesOnline's team of software experts were suitably impressed on review of the product and recognized Linx further, winning the 2017 Great User Experience Award which is granted to products that offer especially good user experience.
According to a statement released to Linx, "Our experts have seen Linx's technology perform impeccably for small business and enterprises alike. It is an absolutely necessary product for anyone looking to automate a mundane yet time intensive tasks."
We're delighted to have these shiny new awards to put on the Linx mantle, but more importantly, the awards are another confirmation that our product is providing measurable value to busy IT manager and developers across the globe.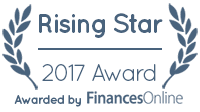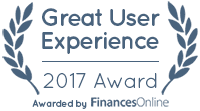 The 2017 Rising Star Award and the Great User Experience Award distinguished Linx as a highly recommended system in the IT development software category.
To read the full review, click here https://reviews.financesonline.com/p/linx/