Backend Applications at Breathtaking Speed
For APIs, Web applications and automations
Application development could not be easier. Linx is a complete suite of services to develop and run custom backend applications. With powerful no-code programming functions, out-of-the-box integrations and intuitive development workflow, you can build your backend faster than ever before. 
---
Innovate with speed
Build backend applications incredibly fast with our high-productivity drag and drop designer and a dedicated hosting environment to deploy and manage your apps. 
Build in Low-code
Build and deploy powerful backend applications in a fraction of the time it would take using traditional hand-coding. Whether you have an immediate need or require a working prototype, application development in Linx lets you build and execute your idea without the need to write complex code.
Host with 1-click Deployment

Enjoy an effortless deployment experience and go from development to production  in seconds. Design, test, tweak and release your application directly from our IDE, in the cloud or on-premise, without the worry of infrastructure, maintenance and upkeep.
Integrate anything, everywhere
Solve your integration needs by connecting your line-of-business systems, code-free. Integrate with virtually any business system, database, API or file.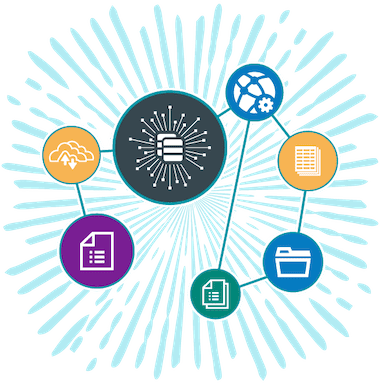 Prebuilt drag and drop connections 

Design, create and call microservices and APIs directly from your application

Easily create and reuse custom integration components or business logic

Synchronize, update and store data in real time

Easily leverage external data, functions and services in your applications

Orchestrate data across your systems with workflow and business logic
Flexibility.  For business and IT
Whether your application development needs are simple or complex, our platform provides genuine agility and flexibility in extending your existing applications, systems and tools. 
Create custom applications without coding or compromise
Build applications that are unique to your business. Whether you are breaking up tasks into simple automated applications or eliminating the pain points associated with legacy systems, you can enjoy unrestrained development flexibility from design to production.
Build uniquely customised applications to suit your business and systems
Accelerate time-to-market for new ideas and prototypes
Extend and reuse functionality to meet new business needs in record time
Our platform. Your systems.
Effortlessly connect your business, customers and partners without disruption or changes to your current IT architecture. With no need to worry about the underlying complexities, you can design applications that leverage your existing systems and cloud services to deliver rapid innovation in your business. 
Unshackle and extend your existing systems 
Easily create an endpoint publishing/exposing data from multiple systems
Incorporate databases, message queues and third-party services
Instant deployment your way
Our cloud or your datacenter, you choose the environment that best supports your business requirements. Directly deploy your application from our IDE to your choice of on-premise server or your custom-architected cloud environment.
Deploy directly from the Linx Designer
Run in the cloud or your own datacenter without any additional costs or provisioning time
Manage & monitor your application through our easy-to-use web-based dashboard.
Enjoy enterprise-proven security provided by Azure
Trusted by IT professionals
"Linx is good low code tool to develop applications & web services. It greatly simplifies & improves the speed of development and deployment of new applications."